Book characteristics
We generally try to digitise non-destructively. Occasionally, a book or its bindings can fall to dust but, so far, that has only happened once.
Paper quality is generally poor. Books with acidic paper typically show some yellowing at the edges, which extends across the sheets in the oldest books, and it can sometimes become flaky too. Cheap overly absorbent paper caused print to bleed and be hard to read, and paper thinness can be an issue, where strong lighting causes the reverse side to show through. Colour print in newer timetables required shinier paper, but to scan it requires a different lighting setup for it to work well. Some of our earlier books show reflection on the shiny covers because the settings were not adjusted from the matt paper of the book.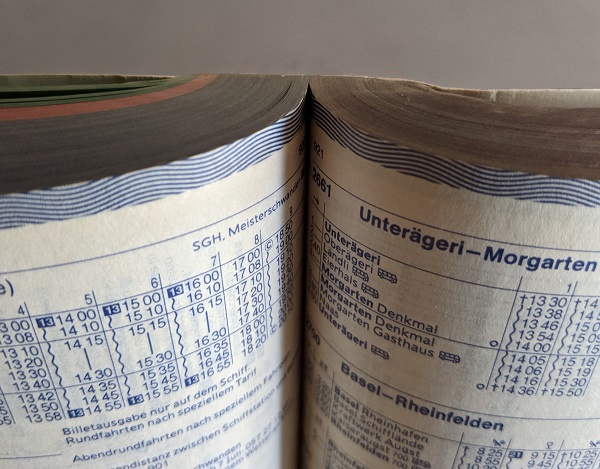 Bindings "Perfect" binding uses a hot-melt adhesive and is quite common for timetables because it is cheap and quick. Books do not, however, open flat without breaking the adhesive. It can be a challenge to uncurl the pages sufficiently to scan into the binding. We have also observed that shiny paper can become badly wrinkled when perfect bound because it has less "give". The Swiss timetables, for instance, are manufactured to a high standard but show several of these effects by having tiny margins, perfect binding and shiny paper.
Print mis-alignment of pages occasionally causes important information to be lost to the guillotine or into the bindings.
Page numbering is rarely straightforward. Many timetables have multiple sections, and may restart the numbering sequences – at 1, at another arbitrary point, by switching to/from Roman numerals and so on. Bradshaw's randomly insert letters into the sequence 101, 101a, 101b, 102 etc.